2022 Gold & Bold recipient committed to advocacy & equality

Hasina Jalal, '21, knows only too well the high stakes for women who work for equality, liberty and democracy in her native Afghanistan.
Her mother and role model, Massouda Jalal, a psychiatrist and pediatrician, ran two strong, independent and self-financed campaigns as the only woman candidate for president of the war-torn country in 2002 and 2004.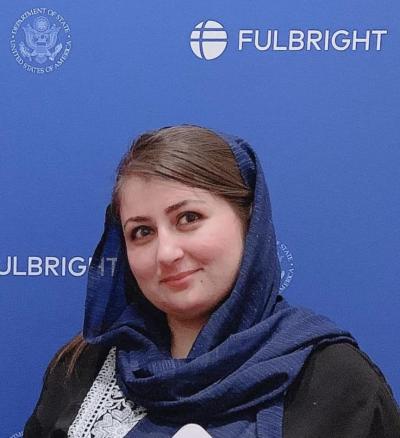 She defied the Taliban, warlords and corrupt politicians to promote anti-poverty and human and women's rights policies.
"Seeing the kind of amazing work she has done, she was my initial mentor," said Jalal. "I wanted to do the kind of work she has done. That became my passion."
Jalal, who received her MA in Women's and Gender Studies as a Fulbright scholar from UNI and is now pursuing a PhD in Public and International Affairs at the University of Pittsburgh, is already well on her way to building her own legacy of empowering Afghan women.
Jalal has been involved in finding and managing several civil society organizations in Afghanistan and at the South Asian regional level.
She is the founding director of the National Association of Afghanistan Civil Society and co-founder of the Afghanistan Women Empowerment and Capacity Building Center and the South Asian Women's Coalition for Cooperation. She has given talks and participated in panel discussions at some of the most established institutions in the U.S., and by doing so, has raised the voices of Afghan girls and women.
Her awards, activism and achievements fill three single-spaced resume pages. In 2020, she was "elected" by public vote as "45 most influential Afghan women in Afghanistan," and previously has won a Global Women Leadership award along with honors from the World Human Rights Congress and Women's Economic Forum.
In October 2022, she was awarded a Gold and Bold award from UNI, in recognition for her commitment to activism and advocacy for gender equality, human rights, women's empowerment and democracy.
Upon her return to campus to receive her award, Jalal spoke of her journey at UNI and introduction to the United States. "The person I am and I have become, this is due to the professors, the students and the community here at UNI."
Wendy Hoofnagle, interim associate dean of UNI's Graduate College, said she is humbled by Jalal's and other young international women students' strength, determination and passion for knowledge. "Jalal's story is inspirational, heartbreaking and, sadly, not unique," Hoofnagle said.
UNI faculty, staff and the long-established women's and gender studies program work hard to ensure international students such as Jalal benefit from their studies here — and expand local students' worldview.
Jalal has leveraged her smarts, compassion and work ethic every step of the way. She earned merit scholarships throughout her academic career. And she has worked professionally and through collaborative programs to empower women at each step in her own impressive career.