Giving back in time & treasure

Dylan Keller, '14, '16, felt called to study history in part because of his grandfather, who served in World War II and passed away in 2004 right as Keller's interest in the topic began in earnest.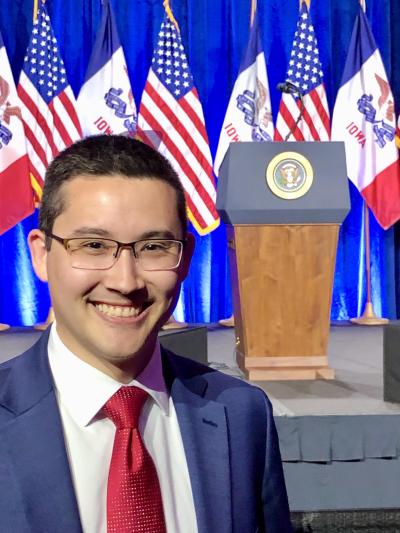 "I was just starting to gain an understanding of the Greatest Generation but missed the opportunity to have personal conversations with my grandfather about his service and experiences," Keller said. "In pursuing history, I had the goal of understanding the past and discovering the everyday stories that made up the fabric of our communities, whether big or small."
Today, Keller works as a legislative analyst for the Iowa Senate Republicans, primarily providing detailed policy analysis for Republican state senators.
Keller has had no shortage of success in his career thus far – he's especially proud he's staffed 105 bills that have become law – and credits much of it to his education from UNI.
"I believe the soft sciences or social sciences offer its students a foundation that sets them up for a successful future," he said. "The foundation I poured for myself at UNI focused on critical reading, critical writing and critical thought."
Keller – a Donnellson, Iowa, native who graduated from Central Lee High School in 2010 – recalls when it came time to decide on colleges, he couldn't have imagined attending a state school.
He was encouraged to visit UNI, though, and the campus tour sealed the deal. Keller said the two biggest deciding factors for him were the academics within the history department and the community feel on campus.
While a student, Keller participated in a number of groups, including the UNI Varsity Men's Glee Club and UNI College Republicans. As an undergraduate, Keller also spent a semester in Washington D.C. through the Washington Center Experience, which enabled him to intern with the Bipartisan Policy Center.
Additionally, he took part in the College of Social and Behavioral Sciences' inaugural cohort of Social and Behavioral Representatives (SABRs) and represented the college as a senator in Northern Iowa Student Government.
Keller's volunteer work with political campaigns inspired him to add a second major in political communication. He graduated in 2014 before pursuing a master's degree in history from UNI, which he earned two years later after completing his thesis on labor history in Waterloo post- World War II.
Now as an alum, Keller continues to keep UNI at the forefront. He's part of the UNI Central Iowa Alumni Club and sits on both the CSBS Dean Advisory Board and UNI Alumni Board. He previously served on the UNI Varsity Men's Glee Club Les Hale Endowment Fund Board, too.
In fact, Keller feels a deep-rooted passion to give back to the university.
"I created numerous connections at UNI over my six years as a student," he said. "Those connections and relationships are a strong driver in why I support UNI with my time and money. I think it's important to give back in these ways, because it highlights how UNI has impacted my life and career."
Keller added, "UNI is a public institution, but alumni support is a key element in showing current students, staff and professors that the Panther family extends beyond campus in Cedar Falls."