Tripp of a lifetime

The connections UNI students and alumni make extend well beyond campus.
This is certainly the case for Bethany (Leos) Wever, '13, and Ryan Murphy, '12. Even though they attended UNI around the same time, they didn't meet until fall 2018.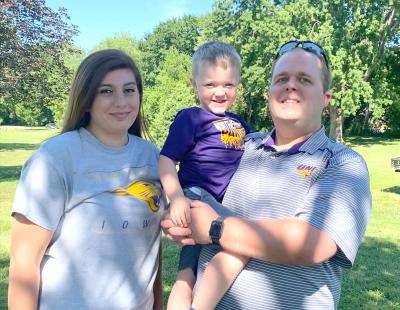 At the time, Wever, a psychology graduate, worked for the State of Iowa (Pottawattamie County) as a social worker, providing ongoing case management for children and families involved in the child welfare/foster care system in Iowa. She received a case in which a baby boy, who was only a week old, was going to a new foster home in Council Bluffs. That home happened to be Murphy and his wife, Kourtney's.
During her first visit there, Wever commented on Ryan's UNI gear.
"Keep in mind, UNI is about a four-hour drive from Council Bluffs, so fellow Panthers can be hard to find here!" Wever said.
Their conversations about their shared love for UNI continued throughout each of Wever's subsequent home visits.
"We exchanged our short stories of college life at UNI to see if we knew any common people and talked about our favorite UNI places," she said.
That next summer, in 2019, the time came when the State of Iowa pursued termination of parental rights on the baby's biological parents, making him available for adoption.
"My instant recommendation to the State was for the Murphy family to adopt the baby, as they loved him as any parent would love their child since the day he was placed in their home," Wever shared. "After 530 days in foster care, the Murphy family took a 'Tripp' of a lifetime and adopted the baby boy, who is now Tripp Murphy."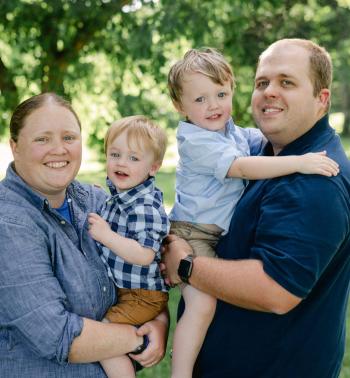 For Murphy, who holds a bachelor's degree in computer science, he and his wife's decision to call Tripp their own was an easy one.
"When we were given the opportunity to adopt over a year later, he had been with us for pretty much his entire life," Murphy said. "We already loved him."
He added that working with Wever – someone who shares his UNI ties – made the whole process a lot easier.
Wever agreed.
"I think UNI alumni connections can have an extraordinary impact on new and existing relationships," she said. "Talking about UNI and the surrounding communities with others brings joy to conversations. These times of reminiscing leave me with a sense of connectedness and pride."
Today, the Murphy's often update Wever about Tripp and his life, including details of his adoption book which has her name in it. They also send Christmas cards, invited her to his adoption party and shared pictures of his adoption day.
"Tripp's story will stick with me for life as his foster care case worker," Wever said.
Ultimately, both Wever and Murphy feel that the connections UNI alumni have can make a deep impact on the community. One moment from an alumni event Wever attended in 2018 at the Omaha Henry Doorly Zoo reinforces that idea.
"During the event, Coach Mark Farley made a statement that has stuck with me: although the UNI circle is small, its bounds reach every corner of this state and beyond," Wever shared. "I love reflecting on this every time I meet another alum."