Student battles rare condition & conquers all odds
Student spotlight: Sarah Joanne Boury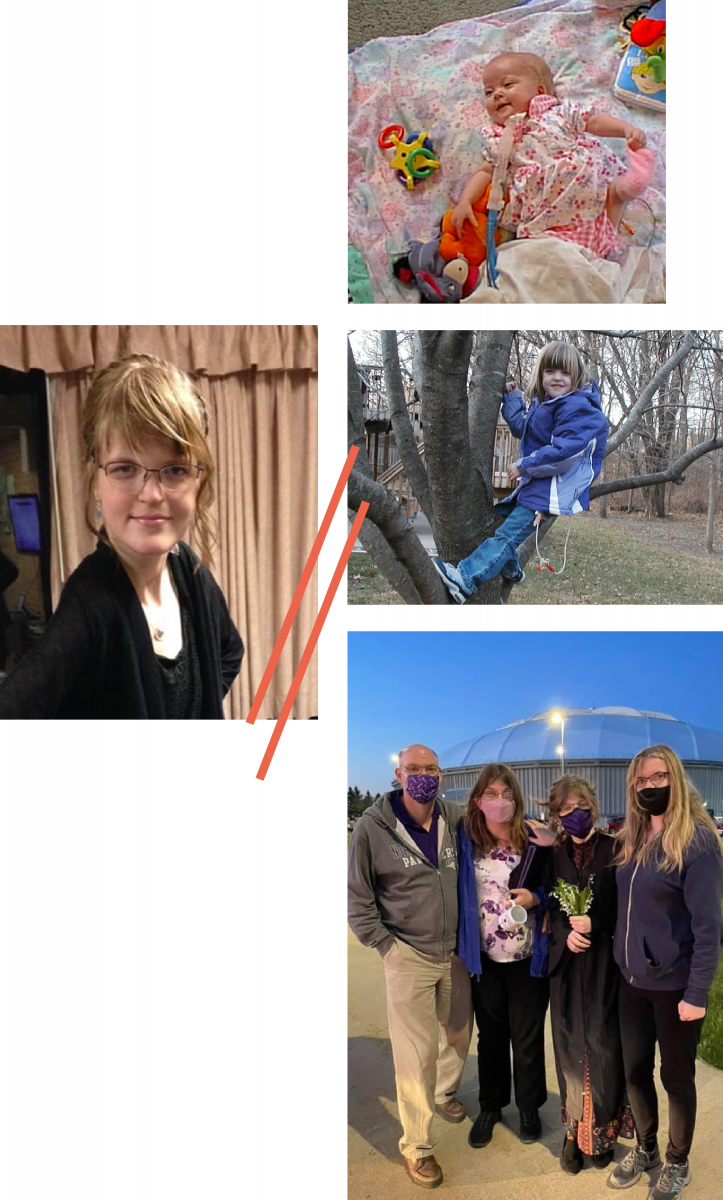 Sarah Joanne Boury, '21, overcame challenges few can imagine to walk across the stage on May 7 for her diploma.
The 23-year-old Des Moines, Iowa, native is believed to be the first to graduate from college — having earned a double major — while deaf (using one cochlear implant), breathing with one lung and sustaining herself through a tube-feeding system.
Boury's boundless determination shines through in her next life goal: leveraging her UNI bachelor's degree, with a double major in family services and social work, to pave the way for others with medical challenges to gain access to higher education and meaningful, decision-making jobs.
"I want to help others become independent and self-sufficient, and to get a higher education so they can be in a position of management," said Boury, who interned at Mainstream Living Inc., an Iowa non-profit that provides housing, counseling, medical, employment and community integration services to people with intellectual disabilities and mental illness.
"I want to help people become successful," said Boury.
Her afflictions stem from a birth ailment known as EA/TEF — a rare occurrence in one of every 2,500 births. Boury was born at 35 weeks with a missing right lung; a break in her esophagus which won't allow food or liquid to pass through; and an abnormal connection between the esophagus and the trachea that lets fluids get into the airways and interferes with breathing.
She stayed in the neonatal intensive care unit for eight months and became deaf at 14 months due to a high fever and reaction to medication.
Throughout her lifetime, Boury has endured eight major surgeries, including a 36-hour-long emergency trachea procedure, and dozens of minor surgeries.
She credits her strength and success to her family and to UNI.
"I could not survive without my family and their support," said Boury, whose mother, Nancy, PhD, is a microbiology professor at Iowa State University, and her father, Ernest, works in the auto insurance business. She also has a younger sister, Laura.
She chose UNI because of its relatively small size, for its family services degree program, and her familiarity since her aunt, uncle and distant cousin are alumni.
"It's been a lot of fun," she said. "I really enjoyed the classes and being part of the beautiful campus."
UNI gave Boury the extra time she needed to walk from class to class, since she can get winded easily, and accommodated her time away for surgeries and online learning needs throughout the COVID-19 pandemic.
"[UNI] wants to see people become successful," she said. "They want to meet people half way. You just have to speak up for yourself."
Katie O'Brien, UNI's American Sign Language instructor, acted as Boury's friend and mentor, often meeting Boury on campus just to chat.
O'Brien also is the advisor to UNI's Deaf Cultural Experience Club, where students and adults can have fun in activities such as bowling, game nights and social get-togethers at restaurants.
"[Boury] is just an incredible person and an incredible woman," O'Brien said. "With all the challenges, she was not going to give up. She's a fighter. That is for sure. I think she's just incredible. It is a joy to know Sarah."
Longer-term, Boury wants to produce research that allows others facing medical challenges to find more helpful resources and technology, "to create change over time."
That's particularly important because of the longterm effects of EA/TEF, which tend to get worse with age. The surgeries at infancy fail to adapt well as one grows into adulthood.
For Boury, that has meant five hospitalizations in two years, each lasting from two weeks to a month.
"We don't know what the treatments and interventions will do for me in the next few years," she said
Boury has conquered educational challenges since she spoke her first sentence at age 7, after she had learned to read people's lips. She attended mainstream public schools for much of her K-12 education, using sign language interpreters and her own ability to read people's speech.
"I felt very isolated most of the time," Boury said. "When necessary, I met one on one with the teachers, or I asked other students to repeat themselves and look at me face-to-face so I could read their lips."
She credits a teacher at Ankeny Centennial High School, Theresa Lawler, with encouraging her to compete on the school's speech and debate team.
Boury lived on campus at UNI until the pandemic hit, so she finished her studies via Zoom and virtual classes.
As part of her future work, Boury aims to push for improvements in technology to address things such as her inability to see live screens side-by-side, requiring the interpreter to join a Zoom class so Boury doesn't have to toggle between her interpreter and the class.
She also hopes that her work will improve technologies for the deaf. Boury would like to see fewer complications from surgeries and a higher survival rate so people in similar situations can have a better quality of life.
If anyone can succeed at that challenge, it's Boury.