Newman Civic Fellow dedicated to destigmatizing mental health
Student spotlight: Jerrell Bates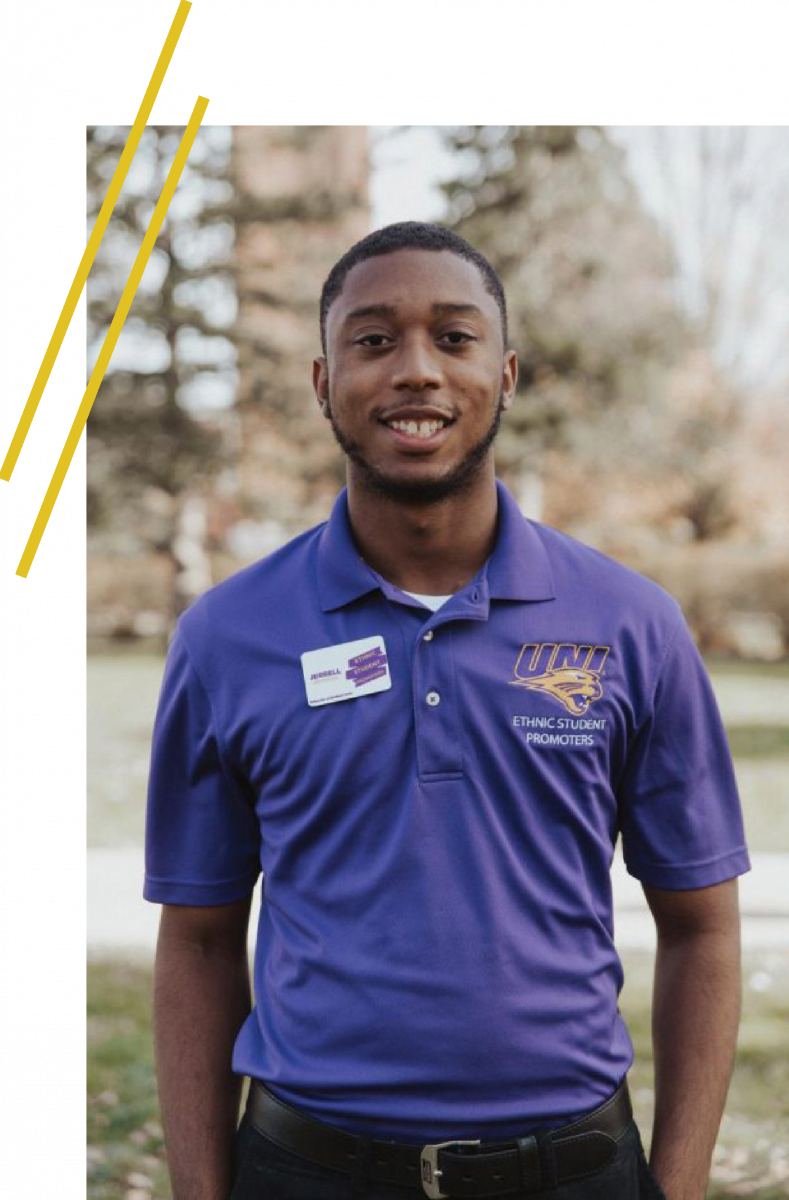 Jerrell Bates arrived at UNI as an introvert wondering whether he'd ever leave his dorm room. Three years later, Bates is a campus leader whose efforts to destigmatize mental health issues were recognized with a national award.
The Waterloo native was one of just 212 students from 39 states selected for the Newman Civic Fellowship, a yearlong program that selects student leaders who demonstrate a commitment to finding solutions for challenges facing communities.
"We all have a purpose and I just feel like my purpose is to help people. It's not a big deal … I feel like it's just the right thing to do," he said. "Seeing the recognition that I get for the work that I do is really special. It kind of signals how big of an impact I'm making."
Bates was nominated for the award by the Office of the President.
"Jerrell's involvement on campus illustrates how he is addressing the fields of mental health and higher education," said UNI President Mark A. Nook. "He recognizes the lack of representation of Black individuals in higher education and commits his time at UNI to working to help individuals of color enroll in educational programs and seek out the support services to assure their success in reaching their educational, professional and personal life goals, including mental health programs when needed."
Bates' work to promote education and equity among marginalized students won him the nomination. Bates is the president of Ethnic Student Promoters (ESP), a student group housed in the Office of Admissions that seeks to increase the amount of students of color in higher education, and is active in the Black Student Union.
He's also a mentor in the Center for Multicultural Education's Multicultural Mentoring for Student Success program, a program he was first involved in as a mentee.
"I saw the leadership traits in Jerrell way before he could see them in himself. I wanted to be challenged to see if I could pull him out of his shell," said UNI alum and Bates' former mentor Yakira Sanders, '19. "I am so honored to be able to watch Jerrell grow into the leader he is today. He is the definition of hard work and determination."
Bates credits the mentorship he received, as well as his UNI classes, with giving him the skills he needs to succeed as a student leader today and prepare for his future. He wants to pursue a master's in psychology at UNI.
"I feel like I've gotten a really good education since I've been here, so I have no doubt that the master's program will be the same," he said.
Through his leadership and UNI education, Bates is working towards becoming a clinical psychologist. He wants to not only help people living with mental illness directly, but help advocate for policy changes to address inequalities in mental healthcare.
It's all part of his passion for helping others.
"I want to be one of those people [individuals with mental illness] can go to for help with that support, but I would also like to see things like policy changes to benefit them," he said. "I've always believed in the motto that you should treat people how you want to be treated. There's a bunch of people on this earth and we're all in this together, and I feel like we should all be there for each other."