Fashion career takes alumna from small town to big city

Growing up in the small town of Muscatine, Iowa, with a passion for fashion, Cassie Hendrix, '21, has always had her sights set on big city living.
In 2021, that dream came true when she moved to New York City.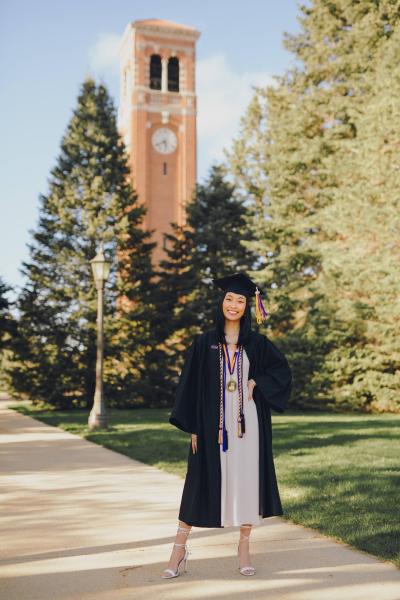 There, Hendrix, who double majored in marketing and textiles and apparel (TAPP) at UNI, works as an assistant buyer for the kid's division of Ross Stores, a chain of discount department stores that operates under the brand name Ross Dress for Less.
"I learn something new every day," Hendrix said. "It's been a good match for me to combine both my analytical and creative skills."
Hendrix, a first-generation college student, credits her experience in the TAPP program for preparing her to have a successful career in the industry.
"A big part of my job is the analytics, but the other big part is the actual product," she explained, adding that what she learned in her classes at UNI – particularly technical skills – directly translated to her job.
"The high standard the program holds you to with projects has made me more detail-oriented and ensure accuracy, which is extremely important, especially in a fast-paced industry," Hendrix said.
In addition to her studies, which "didn't feel like school because I had genuine interest and excitement to learn," Hendrix was a career guide for the Office of Career Services. She was also involved with Business Student Ambassadors, Connecting Alumni to Students and Student Admissions Ambassadors.
"I enjoyed giving tours, helping prospective students find their home at UNI, just like I did," she said. "It was always really important for me to make a connection and let others know how much the university helped me."
Additionally, during her senior year, Hendrix served as co-editor-in-chief of Uprising Magazine, a social justice, fashion and arts magazine on campus, as well as director of the UNI Catwalk Fashion Show.
One of Hendrix's favorite memories from her time as a student was when she got to study abroad in Florence, Italy. There, she took classes specific to fashion and business while experiencing a new country and culture for the first time.
Hendrix also recalled spending many late nights in the Latham Hall sewing lab with other TAPP students.
"We would talk, laugh and even order dinner because we were too busy to leave," she said. "That's where a lot of my friendships formed, and we still stay in contact to this day. I think it's special to find a group of people you bond and share similar interests with. We all supported each other and made sure to keep the energy high even when we were seam ripping out our designs."
One of Hendrix's mentors in the TAPP program was former School of Applied Human Sciences Director Annette Lynch, whose feeling of respect is mutual.
"Cassie always went above and beyond and inspired others to do the same," Lynch said.
She felt that Hendrix helped the TAPP program produce outstanding UNI Fashion Week productions that gave all students an opportunity to showcase their original work in creative ways, despite the challenging restrictions of the pandemic.
Additionally, Lynch shared that during Hendrix's tenure as co-editor of Uprising Magazine, the student organization won the Diversity Matters Award, recognizing the outstanding work the team did in producing photo shoots and articles that captured a wide range of voices in the community and on campus.
"The combination of Cassie's smile, generosity and drive for excellence moved everything she was involved in on campus to a higher level," Lynch said.
Looking to the future, Hendrix hopes to take her career to a higher level as well, soaking up all the knowledge and experiences she can along the way.
No matter where her path takes her, though, she'll hold onto her affinity for the university she felt was more like home.
"I felt a true connection and knew UNI was the place for me," Hendrix said. "After spending four years there and graduating, I still believe UNI is the reason I'm the professional I am today."