A beloved professor's lasting gift

There are certain professors who stand out over the many years of an institution. Those whose classrooms are a whirlwind of challenging perspectives, but whose office is a respite for an ever thoughtful, listening ear.
James (Jim) McCullagh was that kind of professor.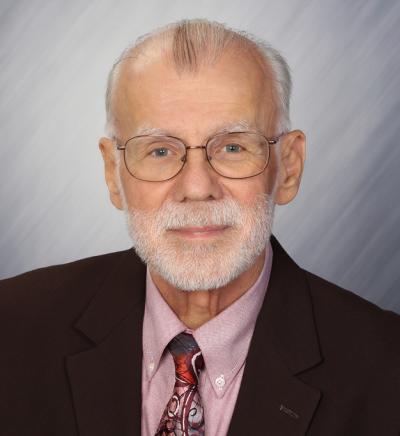 His journey to Iowa was an unlikely one. Born in New York in the 1930s to Irish immigrant parents, McCullagh's start into the world came with its own share of struggles. He bounced around several schools, admittedly kicked out of a few as a self-proclaimed "scrapper," before enlisting in the U.S. Army at the age of 18.
The Army provided a new foundation and opportunity to travel abroad. While stationed in Germany, McCullagh connected for the first time with his extended family in County Tyrone, Northern Ireland. His cousin Rachel fondly remembered that his arrival was announced by a swarm of children, including herself, who followed him throughout the little town like the pied piper. From early on, people were just drawn to McCullagh.
After his time in the Army and with the support of the GI bill, McCullagh attended Curry College in Massachusetts and, later, California State College at Chico. He then settled for a time in San Francisco — a city and time he remembered quite fondly. It was there he found his love for helping others, diving into welfare work during the height of 1960s Haight-Ashbury.
Although McCullagh loved this work, he knew furthering his education in social work would only allow him to better help those who struggle.
And so, a scholarship and serendipity brought him to the Master of Science Social Work program at the University of Missouri-Columbia, and to the love of his life, Cheryl Ann Edwards, a fellow student in the program.
Their relationship was not fondly embraced by the institution. He was ten years her senior and from a very different background than the young daughter of a Missouri physician and World War II veteran. University administration attempted many times to dissuade Cheryl and terminate the relationship. She did not listen.
McCullagh turned this experience into a lesson on how to better relate with his students. He wanted to get to know them, connect with them, and challenge them to explore how they interacted with the world. He knew too well the difficulties life could bring — but that these experiences would, in turn, make them better future social workers.
After graduation, McCullagh secured an assistant professor position at the University of Kentucky where he and Cheryl started their new lives with their young son, James John McCullagh. In 1981, they moved together to northern Iowa.
It was a homecoming for Cheryl, who had family roots in Iowa. Both she and her mother attended Graceland College in Lamoni and her parents had lived in the state.
McCullagh's introduction, however, came with a challenge along their route. His son shared the memory, "We had a big U-Haul and he ran out of gas in the middle of some random farmland. So he's got to go to these farmers and ask them for gas, and he's a New Yorker. He was so shocked that they would not take any of his money. He couldn't believe it — and this was his first experience with Iowa."
In Cedar Falls, the couple settled into the professions they would keep for several decades: Cheryl, a school social worker employed by the Area Education Agency; and McCullagh, a professor of social work at the University of Northern Iowa.
Professor of Criminology Clemens Bartollas joined UNI just a few months prior to McCullagh, and remembers how instrumental he was to the department from the very beginning. Not only as a committed teacher and mentor, but also in the establishment of UNI's Master of Social Work program.
"We need giants in this world. People who are going to make a difference. And that was Jim McCullagh," Bartollas remarked firmly and fondly. "He was very dedicated to his craft and to making a difference in the lives of his students."
After receiving tenure from UNI, however, McCullagh felt once again at a crossroads. Many would use this opportunity to continue their research, and relax in some well-deserved security. McCullagh decided to go to law school.
"He loved learning," his son explained. "He was really proud of this accomplishment; it meant a lot to tell friends and family back East that he was a lawyer."
McCullagh went on to practice juvenile law part-time in Cedar Falls and Waterloo, alongside teaching and research at UNI. The experience had a profound effect. "It was really tough to see parents and kids from all walks of life go through some of their challenges," his son remarked. "It gave him some of the experience that many social workers see and go through — the burnout and emotional overhaul."
He thrived through this yearning for perspective and understanding. In his research, McCullagh found an unlikely kinship in the Cherokee people; specifically, Howard Chandler Walkingstick, a social worker who worked for the Bureau of Indian Affairs in several states, serving numerous tribes for over 30 years. In his article, "The Road Not Taken: Discovering a World I Never Knew," McCullagh expressed hope that his research and insights would lead to a greater understanding and appreciation of the Cherokee Nation's social workers and educators.
Outside of academia, McCullagh was a devout member and volunteer sacristan at St. Stephen the Witness Catholic Student Center, located just across the street from his office on campus. He was additionally a Benedictine Oblate, a designation of persons who offer themselves to God in the service of others.
But, above all, McCullagh loved to teach and was very close to his students. "He got to know them," his son remembered. "If they came and wanted to talk, he would just listen for hours as they shared their lives. That was really meaningful to him."
Professor and former Head of the Department of Social Work, Cindy Juby, also witnessed this commitment. "His students were his priority. If he could have, he would have lived in his office. He developed a lot of relationships that continued even after graduation."
This dedication to his students did not go unnoticed. Over his years at UNI, McCullagh received several awards, including the Regents Award for Teaching and the Randy A. Fisher Lifetime Achievement Award.
There were also the smaller, but equally meaningful moments, like when a classroom of students decided to throw McCullagh a surprise 81½ birthday celebration. When the photos were posted on UNI's Facebook page, alumni flocked to the comments to help celebrate with their favorite professor.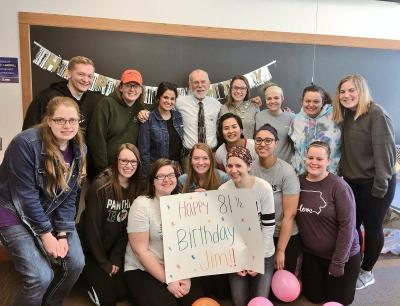 "Best professor I've ever had! He truly cares about his students and their dreams," said K.C. Moore, '11. "Dr. McCullagh taught me so much not only about social work but also what it means to be a great person," stated Kendra Renner, '15. And from Heather Tjernagel, '07, "He was the first person I called the day I got an acceptance letter for graduate school. He has made such an impact on the worlds of those who know him. Such a genuine soul!"
Later, on McCullagh's tribute wall, alumnus John Stanley, '87, wrote, "I met Dr. McCullagh in 1983. I had just served four years in the U.S. Marine Corps. I was very uncertain what I wanted to do with my life. I was accepted to UNI but under academic probation. My very first class on my very first day of college I met Dr. Jim. His words inspired me to become a social work major, go to grad school and become a social worker. I feel very lucky to have had him be part of my life. I would not have become the social worker or the man I am without him."
The later years of McCullagh's life came with another set of challenges. After a wonderful, long marriage, his beloved wife Cheryl passed away unexpectedly in 2015. Then came 2020, with all its hurdles and adjustments. "He would have rather been with his students," said his son.
McCullagh retired from UNI's Department of Social Work in 2021. In early 2022, he and his son took a final river cruise through Germany, France and the Netherlands. "He loved it. It was a final farewell."
In August 2022, McCullagh was laid to rest at St. Patrick's Cemetery in Greencastle, Northern Ireland, in a beautiful plot beside Cheryl.
In his memory, McCullagh has not only left a legacy of caringly trained social workers, but fresh hope for those to come. His $1.1 million gift to the university will go toward scholarships to help support students pursuing social work for many years ahead. A little help to the generations of people who, like Jim and Cheryl McCullagh, dedicate their lives to helping others.