Veteran helping fellow Veterans

At the age of 17, Kole Hosch, '21, enlisted in the United States Army.
During his three-and-a-half years of service – including one year in Afghanistan – the Monticello, Iowa, native worked as an aviation operation specialist. That role gave him a number of responsibilities, from coordinating flight plans to alerting crash crews of emergencies.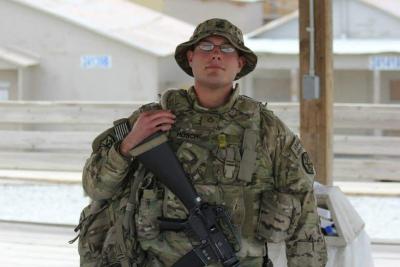 When he got back home from overseas, Hosch met with a psychiatrist who told him he seemed to be "one of the lucky ones."
"It shouldn't be that way," Hosch said. "We should all be doing what we can to survive. So, it really made me want to get into the field of social work and help veterans get through their issues."
Hosch started looking for degree programs that would enable him to do just that. He attended Mount Mercy University for his undergraduate studies, then transferred to UNI for his master's degree because of the department of social work's focus on trauma.
In fact, the program offers a trauma-informed care specialization, which is based on decades of research on how people are affected by stress, adversity and oppression. Students like Hosch get to work with scholars and experts in the field of trauma and mental health while learning innovative  approaches to addressing complex issues.
"I knew if I wanted to continue in a career helping veterans, a trauma-focused background would be the best option," Hosch said.
As a student, Hosch had the opportunity to intern with Veterans Affairs. It was a role he especially enjoyed because he feels it's helpful for veterans to have other veterans to talk to and support them as they navigate their problems. He also got to help with homeless outreach and the Veterans Justice Outreach Program.
One of the staff at UNI who impacted Hosch the most was BSW Program Director Jenny Becker, who also serves as the program's director of field instruction. He felt she did an outstanding job of helping him keep on top of his field placements and checked in often to see how he was doing.
In addition, Hosch believed associate professor Matthew Vasquez led engaging classes that were a deep dive into trauma and how it impacts the body and brain.
Moving forward, Hosch hopes to find a full-time job with the VA after gaining more clinical experience to help fortify his knowledge and skills. He's particularly fond of doing homeless outreach – a passion he discovered as a student at UNI.
"The trauma-focused experience I received at UNI will help build a great foundation when helping fellow veterans," Hosch said.